Lessons of tolerance in schools in Saint Petersburg.
Lessons of tolerance in schools in Saint Petersburg.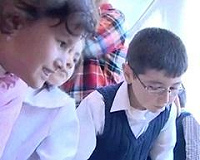 Press-demonstration took part at 23th of October in the 259 school, Crjukov canal, 3, in the network of project "Multischool". Project "Multischool" is combined project of museum A. Achmatova, sociologists from HSE and Goethe Institution. Daniel Aleksandrov – assistant director of HSE (StPetersburg) and reseachers of laboratory "Sociology of science and education", Egine Sukiasjan, Maria Petrova, Irina Khvan and Alexei Gorgadze took part in this project. It has being started from October 2012. It goes in the network of German year in Russia and implements in schools, where pupils from different ethnicity groups are educated.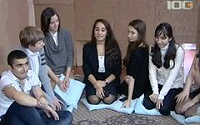 Project "Multischool" is continuation of project "Parallel Saint Petersburg", where took part students of HSE and research workers of Laboratory. The main change is that children don't go to museums on tolerance lessons, but museums go to children.
During this project was organized temporary exhibition, where were shown video-interviews, self-portraits and drawing, which were made by pupils throughout class meeting at last week. Students of HSE spent skill lessons for pupils and other participants of exhibition.

Irina Khvan: "Limply and free we converse with pupils on the carpet with pillows about us, favorite holidays, traditions and inmost wishes. The main idea is that tolerance is born and exists in little groups, in family and class. Even if it is hard to talk Russian, we are trying to meet with them, know them and meaning of name. We had individual approach to every class, for instance, we invented portraits to little children. First graders had to lead each other round on big cardboard and help with colouring".

Maria Korostyleva, manager of exhibitions and projects of museums Anna Achmatova in Fontannyi Dom, characterized project such way. "Lesson of tolerance is relative name. It is talk, sociologists from HSE hold this conversation carefully".
Svetlana Agapitova, authorized person on child's rights, Zhelonkina Larisa Victorovna, deputy chef of Administration Admiralteiskii district, Pivchuk Elena Arkadievna, assistant director IMC, representatives national diasporas, representatives of Goethe Institution and Museum of Anna Achmatova, parents and teachers took part at opening of exhibition.
For  some sociologists is the first experience, somebody took part in this project at 2010. Nowadays the main idea is to attract new participants from schools and young sociologists students in this general utility and important event.
Reportage about "Multischool" TV channel TV100
Alexei Gorgadze and Ekaterina Trofimova
Translated by Sofya Semenova