Meeting with Igor Chirikov, the Director of the Center of Internal Monitoring in Moscow
On June, 15, 2012, seminar with Igor Chirikov (graduate student of Department of Sociology, HSE, Moscow, director of the Centre of Internal Monitoring of the HSE) was held at SESL.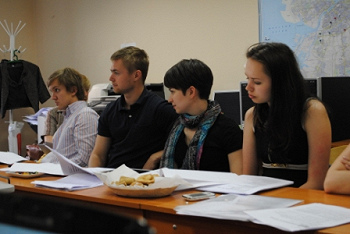 During the meeting Igor described specific features of the study of graduate students and the results of monitoring of Moscow HSE students. Ivan Gruzdev, the analyst of the HSE Center of Internal Monitoring (CIM), spoke about the methodology of on-line research and the problems which arise during the research. SESL was invited to participate in the project of SERU (Student Experience in the Research University) international organization, which unites a number of universities in China, Brazil, Canada, etc. and use their profile to monitor HSE students. In this case questionnaire has to be translated and adapted for Russian students, but this is rather complicated process, because profile consists of four major modules, and some questions may be perceived in various ways in different countries.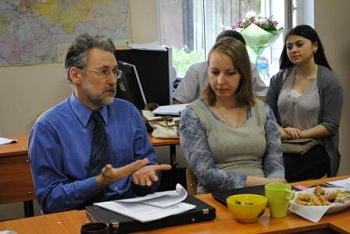 Moreover, a joint project on network analysis of the interaction of students was discussed. Daniel Alexandrov told about the pilot survey of students in technical schools and colleges, and about future plans for this project. At the initial stage researchers and volunteers of SESL surveyed 20 colleges of Saint Petersburg. Further, on the basis of these data, a sample of 10 colleges will be made. The researchers will choose some students of those colleges for longitudinal study of the establishment of networks and dynamics of interpersonal relations within student groups.

The meeting was very interesting and lasted for about 5 hours. After the formal discussion of project a coffee break was served and participants discussed future research plans of each other.
by Alexey Gorgadze