SESL researchers used to go to India for working and studying, but now Indian guests are coming to SESL!
SESL researchers used to go to India for working and studying, but now Indian guests are coming to SESL!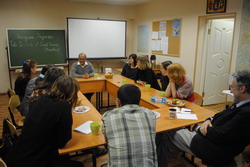 It is nice to realize that there are people who are occupied with the same topics and questions on the other edge of Earth, in whom you and your colleagues are interested, for example, Indian scholars. Research on the educational system is held in a country which is very different from Russia and has a lot of features. Narayana Jarayam, professor at the Tata Institute of Social Sciences, Mumbai,  visited SESL on October 26th 2010.
Everyone could ask professor Narayana questions during the meeting. This smiling, good-natured and friendly person can be for sure named unusual. He is traveling around Russia without a telephone and Internet. This doesn't bother him at all in contrast with many European and Russian scholars who always carry laptops with them. When we suggested him tea or coffee, he chose coffee. We asked him why he chose coffee and expected  an explanation that tea in Russia differs from the Indian tea. But the answer was absolutely different: tea is a drink for the poor in India.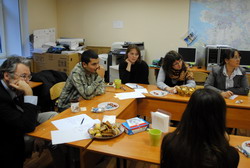 Jarayam knows 6 languages and dialects including English and Hindi. He learned English, which was spoken at the meeting, pretty late when he entered a master's program. Today professor Narayana teaches in English and conducts research work at the Tata Institute of Social Sciences. His scientific interests touch upon three topics: higher education, the Indian diaspora and Sociology of politics. He teaches statistical analysis and research methodology. One of the students asked him whether he views himself more as a researcher or teacher and he replied that as a teacher.
The department he works at is the School of Social Sciences. There are 2 master's programs and six research centers on the basis of the school. The work of this centers is directed at studying different social aspects of Indian society's life: from law to women's situation. One of these centers is devoted to research in the of Sociology of Education field. Researches of different educational levels are engaged into it works – bachelors, masters, professors, just like at SESL. The center contributed to the elaboration of educational and social policy.  Narayana told us how his university's graduates find jobs, more exactly how the university finds jobs for its graduates. The annual brochure where all the graduates are and their skills are listed is sent to the key organizations. Due to it, the majority of the best graduates find good jobs.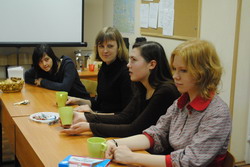 Jarayam also spoke about the student exchange opportunities, how it is possible to go to India for work or studies. This topic was especially interesting for Marina Ostapenko and Irina Khvan, research assistants at SESL who had already been to India and worked as volunteers at a children's camp. They were amazed by this country. A funny fact was discovered during the talk: SESL researcher Evgeniy Kochkin who did internships in India for several types and entered the University of Lund (Sweden) is now studying together in the same group with professor's Narayana former student. The world is small)
The students and researchers were discussing the meeting for a long time After a warm saying good-bye to professor. The opportunity to communicate with scholars from different countries of the world is very important for us. Such meetings let us find out how universities and research centers are organized in other countries, how the research is conducted there and what different points of view on the issues we study there are.
By Daria Khodorenko