Seminars on Network Analysis in Cooperation with the University of Groningen
SESL has launched an intensive preparatory course on network analysis before the visit of prominent scholars in this field from the University of Groningen. The classes are held every Friday since March, 11 at 15-00.
On April 11-13 prominent network analytics from the University of Groningen Christian Steglich and Marijtje van Duijn are coming to SESL. The department of sociology at Groningen is one of the leading centers in this field worldwide. The Dutch scholars will deliver public lectures and intensive seminars for SESL researchers and guests to discuss contemporary approaches and methods of analysis and modeling of social networks.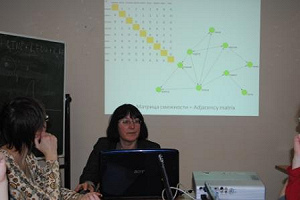 For those scholars and students who are interested in this research field a preparatory course on network analysis was launched in SESL. During the classes the participants will learn necessary terms in English and in Russian and will get familiar with basic software and methods of data visualization and presentation in network analysis.
Network analysis as a method has started to develop rapidly 20 years ago. Mark Newman from the University of Michigan has contributed much to the growth of interest to this method at that period.  This technique has appeared earlier, but before that scholars used to analyze small networks only. Contemporary software makes it possible to process data bulks where thousands of actors can be shown. Moreover, nowadays it is possible not only to store and process databases or analyze them statistically, but to construct models that consider dependencies in between the results.
Network analysis is important for SESL as many projects are based on certain networks, personal or institutional. Moreover, all the fields that are in focus of the Laboratory research can be described in terms of network analysis.
The first class on network analysis was held on March, 11 in SESL. Since then Valeria Ivanushina and Daniel Alexandrov have been lecturing on this topic every Friday at 15-00. After the seminars of Groningen scholars SESL plans to continue the course. For more details see Seminars.
By Ksenia Medvedeva