The Visit of Alexa Meyer-Hamme, researcher from Bremen International Graduate School of Social Sciences (BIGSSS)
On May 23 and 25, 2012 seminars with Alexa Meyer-Hamme, a researcher from the Bremen International Graduate School for Social Sciences (BIGSSS) were held at the SESL.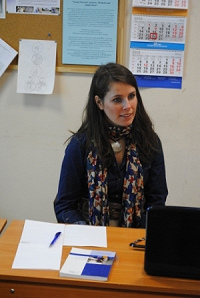 On May 23 and 25, 2012 seminars with
Alexa Meyer-Hamme
, a researcher from the Bremen International Graduate School for Social Sciences (
BIGSSS
) were held at the SESL. The first workshop was devoted to migrant children in German schools; the second one was mostly about the extracurricular activities of German and Russian schoolchildren (Migration and Extracurricular Activities at All-Day Schools in Germany is the topic of Alexa's dissertation).
During the seminar on May, 23 Alexa Meyer-Hamme presented the report about migrant children in German schools and the impact of full-day schools on integration of these kids into society. In the first part of presentation Alexa described the situation with migrants in Germany as a whole. People born in Germany whose parents are migrants form 19.6% of citizens, those who were born outside Germany make 8.9% of country's population.
Alexa also spoke about the phenomenon of labor migration. A lot of people were invited to perform physical work in 1960s from Turkey and southern and south-eastern Europe (mainly from Italy and Yugoslavia), mainly those were people with low level of education.  No effort to integrate them has been taken by German government in those days. The government planned that they would leave Germany at the end of the contract, but this did not happen. Now, the second and the third generations of people who are descendents of those migrants live in Germany.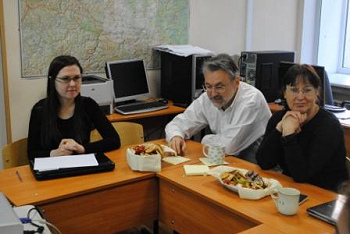 In the second part of the presentation Alexa Meyer-Hamme spoke about education and migration in Germany. Migrant children in Germany are often classified as students from low-income families.  Such children do not have enough opportunities for additional training; it increases educational and cultural gap between local and migrant students. Migrants in comparison with their local peers are less likely to attend kindergarten and preschool classes, on average they go to school later and tend to study in less prestigious schools. Migrant children are also less likely to participate in various cultural programs and activities. The main causes of deprivation are the institutional features of German education system, which is characterized by high selectivity. This was one of the key reasons for reforming the school system in Germany and emergence of full-day schools.
The school system in Germany was reformed significantly in the past 10 years. In 2003 the political paradigm changed, the idea of full-time schools was supported. Four billion euros has been allocated for these purposes. Thus, in addition to traditional Gymnasium (Grammar school), Realschule (Secondary School) and Hauptschule (Special School) full-day schools were created, they are called Gesamtschule and Oberschule.
In the final part of her presentation Alexa described her research project on full-time schools in Bremen. She selected and examined 30 schools in this city. For a more detailed study four schools were selected that were "average" in many respects (for example, the social composition of students). Alexa used qualitative methods in her study. She interviewed students (both migrants and local kids), and 2 or 3 teachers and 10 students in each of the four schools selected for more precise examination. In addition, Alexa has included the analyses of school charters (how the declared purpose fulfilled in practice and in what form) in her work. According to the results of her survey, boys appreciate extracurricular activities more than girls. Open start when kids can come one hour before the classes start is the most important and favorite time at school for many children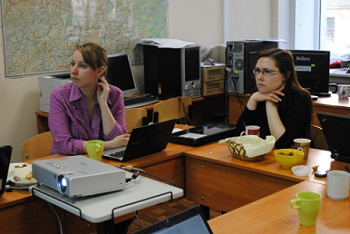 Laboratory researchers presented their reports about collective projects on migration and education. Ksenia Tenisheva told about the study of educational choice of 9-graders at schools of St. Petersburg and in the rural areas. Maria Petrova made a report on tracking and selection in the Russian school system. Egine Sukiasyan and Alexey Gorgadze talked on the collective student projects on ethnic groups of students in the social network «Vkontakte".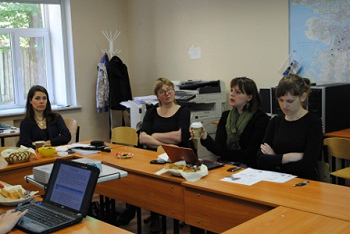 Seminar held on May, 25 was devoted to discussion of extracurricular activities - the main topic Alexa Meyer-Hamme is engaged in due to her dissertation. In her report Alexa gave more information about full-day schools in Germany, the main task of which is to include extracurricular activities in the process of learning. About 30% of all German schools have already switched to a new system through the efforts of government. The new German school involves several fundamental differences from the traditional educational system, which is very close to the modern Russian. Firstly, students can come an hour before the school starts, they get a free breakfast, and they can also play sports. Classes run from 8 am to 5 pm, but the usual classes (languages, mathematics, sciences) are interspersed with extracurricular activities, so students do not get tired. Schools offer a wide range of extracurricular activities: from painting to music, sports and dance. Social behavior is a compulsory lesson: students from the 1st to the 6th grade are taught practical skills in social behavior, argumentation of their position, etc.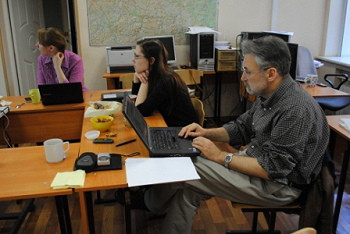 Daria Khodorenko, Vera Titkova and Ksenia Tenisheva told about the study of extra-curricular activities in Russia. They presented preliminary results of a project conducted by the Laboratory in early 2012. The system of extra-curricular activities has been created at the Soviet Union, and the involvement of children in classes depends on the market of educational services (in rural areas such proposals are less likely). Non-organized and non-supervised activities were also included in the research (playing football in the yard for example). More than 95% of children in Russia are engaged in some kind of extracurricular activities or used to practice them in the past, according to the results of SESL survey.
By Maria Petrova