Ksenia Tenisheva about the conference "Sociological Methods in Contemporary Research Practice"
Valeria Ivanushina and Ksenia Tenisheva have participated in academic and practical conference dedicated to professor Kryshtanovsky at HSE (Moscow).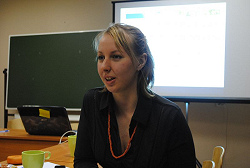 On February, 22, 2011 at the department of sociology at HSE (Moscow) the fifth academic and practical conference dedicated to professor Kryshtanovsky was held. It was titled "Sociological Methods in Contemporary Research Practice". This year the organizers received more than 400 applications of the researchers from many regions of Russia and from other countries. 6 sections that were held simultaneously were about the major problems of contemporary methodology of sociological and marketing research. These were, for example, measurement and data analysis, qualitative methods, analysis of unstructured information, methods of market inquiry.
The conference was started with a plenary session.  During this part the speeches on the most contemporary and important aspects of teaching and research methodology in social studies were given. Two of them seemed the most remarkable to me. Galina Tatarova has classified the major problems of contemporary sociology in Russia and proposed certain solutions. Yuliana Tolstova has drawn attention to the gaps in the itineraries of sociological departments in Russia and has prepared a list of her own where the subjects that she finds vital for sociologists were presented. To her opinion, basic sociological courses lack methodological studies and quantitative methods.
I have participated in the session called "Methodological experiments" headed by Oleg Oberemko. I have presented a paper written in cooperation with Daniel Alexandrov that was titled "Concept of frame and mixed-method design". This paper explores how to use frames for combination of qualitative and quantitative methods in one research.
The paper sparked a lively discussion although it was the last to be presented in that section.  The participants were interested in Frame Selection Model which is chosen as a theoretical basis of this research project. Also the technique of using qualitative data for elaborating quantitative questionnaires was widely discussed.
Valeria Ivanishina has delivered a lecture on multilevel covariance analysis (also known as P2) in explaining ethnicity effects in schoolchildren networks. This was the only paper on methodology of data processing in this session. Five other lectures were given on various topics. The scholars are conducting research in sociology, marketing and social psychology, but are focused on methodological design. 
The most important for my research project was the lecture of Elizabeth Duk in which she compared the effectiveness of route and address sampling for public opinion studies. She and her colleagues have developed a new method of inquiry using address sampling that helps to control the interviewer's actions better then now. It also provides means to minimize refusals and cover the richest and the poorest that used to be a problem for years in sociological research.
These modifications led to significant variations in results. In general, opinions were less positive and optimistic than in the case of route sampling. The problem is that this method takes longer and is more expensive and laborious so it may probably be more useful for some other types of research, not for public opinion inquiries.
I believe that the conference is fairly practical for the researchers. It is not only a place to show the results of the studies to the colleagues, but also a chance to meet interesting people and learn something new about theory and methodology of contemporary social studies. This conference is not an arena for a rivalry of different ideological approaches. Nobody tried to show that her or his methodology is the best. Vice versa, it was a very productive discussion which gave a chance to learn something new in very friendly and professional atmosphere. This conference is a wonderful opportunity for Russian sociologists.
By Ksenia Tenisheva