Kate Kuldina about the conference "Youth (Sub)cultures in Changing Societies"
On February, 2 – 4 the conference «Youth (Sub) cultures in Changing Societies» was held in Tallinn, Estonia. It was devoted to research of youth from different points of view. The University of Tallinn organized the conference. The junior researcher of laboratory, Ekaterina Kuldina tells about conference and her report.
On February, 2 – 4 the conference «Youth (Sub) cultures in Changing Societies» was held in Tallinn, Estonia. It was devoted to research of youth from different points of view. The University of Tallinn organized the conference. The junior researcher of laboratory, Ekaterina Kuldina in the following interview tells about conference and her report.
Veronica Kostenko: Tell me, please, was it an international conference or a European one?
Ekaterina Kuldina: All in all, there were about 80 reports at the conference. Among the participants, there were researchers from USA, Russia, but the majority of them, of course, were from the European countries: Germany, Great Britain and others. There were four people from Russia: two of them from HSE and other two from Ekaterinburg. When went to the conference, I thought whether there are any scholars from Russia there. It has appeared that the topic of youth in Russia is less developed in comparison to Europe.
VK: What was the title of your report?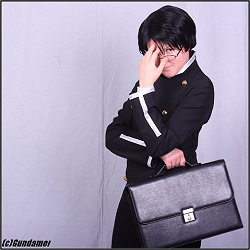 EK: «Cross-gender as one of transgender identities». I told about the phenomenon of "cross-gender" in youth communities of St.-Petersburg, such as «anime» and «role-players». Apparently, I have some mess in concepts due to translation. "Cross-sex" is the term that people use to call themselves in everyday speech. For example, during the interview an informant could say: «I am engaged in cross-sex». More correctly and more academically, we use the term «cross-gender» because we do not mean transsexuals or surgical change of sex.
VK: What kind of empirical data was your research based on?
EK: At first, it was observation. For two years, I was carrying out participant observation in various places where youth hang out. Actually, this was how the idea of this research appeared. It started as a linguistic experiment because their specific speech attracted my attention, and then I expanded this research topic, and the methodology has changed as well.
VK:  You have mentioned a linguistic experiment, what was so special in their speech?
EK: There is a certain community where gender ambiguity in speech is considered normal. For example, young girls talk to each other as if it is a conversation between men. They speak about themselves, using verbs in masculine form or depersonalize their speech as much as possible. Russian language allows it. Such behavior is normal for these communities, and it is not perceived as something extraordinary or unique.
VK: Why do these people behave in such a way? Is it imposed by subculture? Is it the influence of any feministic trend? Or is it somehow connected with homosexual practices?
EK: You have listed three main questions that I've tried to answer in the research. At first, it seemed to me that there is an unequivocal link between homosexuality and such verbal strategy of self-presentation. It was not possible to collect the statistic data. As a result, I conducted the research with the qualitative data. I used narratives, individual, group and expert interviews, and observations as well. I used more than 25 sources and about 50 participants were included into the project. To answer the research questions, I worked with experts who were the members of these communities. In their opinion, the number of homosexuals in the chosen sub-cultural environment is insignificant, but the overwhelming majority of them consider it normal to wear clothes typical for opposite sex.
VK: Can you tell about role-playing in more detail?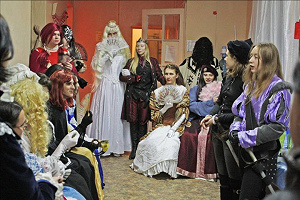 EK: Role movement in Russia has almost twenty years of history. Nowadays role-playing games are very different. There are numerous trends in role-playing: live action, desktop, verbal. It is definitely possible to say that it has begun as "Tolkienism" as the first games were influenced by the books of Tolkien.
The core of the phenomenon is the experimental modeling (borrowed from psychology) of any situation by group of people that they do not in the therapeutic purposes as in psychology, but for fun. People gather and shift to another reality with the help of dices or costumes, and find them in a situation where conditions and characters are pre-established. These are the rules of the game on which it is possible to play together any plot or the scenario.
VK: And how is it connected with games?
EK: For example, usually there is a master in the game who supervises the process and implies the rules, and there are the players. When there is a disputable situation, the players solve it with the help of dices. Then the players follow the instructions that are written on the sides of dices. This is how the process goes on.
VK: Have you met any researchers who study the same or similar topic at the conference?
EK:Unfortunately, I was only in last day of the conference, that's why it is difficult for me to estimate closeness of other lecturers, but among reports that I have listened the report about hippies in Russia was very interesting. It seemed to me that the meaning the researcher puts into the concept of "hippies" is very similar to "role-players", besides there is such a trend as "folk-players" - just the same practices are observed. Then there was a young researcher from Germany who told about designing of gender identity in two youth subcultures: Goths and Heavy-metal funs. She also worked with interviews and she has shown that rockers are an aggressive and masculine subculture. The Gothic subculture is more neutral and more faceless.
VK: And how have you come to subcultural studies?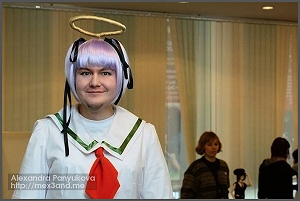 EK: At the university I was told that every researcher focuses on her\his personal, biographic situation in the studies. As for me, words of my mate became a push in this direction. She told me that my friends are weird and act abnormally.  And I reflected whom she called "weird". It was a question about our acquaintances who spoke about themselves as if they were men. But if you ask them directly if they feel like girls or like men, they say that they are girls, but gender is irrelevant to them. I've understood that the situation seemed absolutely natural for me as I've got used to live among them. For a stranger they definitely seem weird. Then I understood that research of this phenomenon will be interesting from the sociological point of view.
VK: How can you tell how many people who belong to this subculture live in Russia? Or in St.Petersburg? How often are the festivals organized?
EK: The problem is that people always try to define, to count and as a result to stigmatize. It is wrong, because the phenomenon of cross-sex is a way of behaving but not a definition of people that act this way. Everybody can try to act like this. It is not the diagnosis for a person, it is a role according to Hoffmann to which you can shift in a certain situation. But, if you need numbers, I always present the statistics of big festivals. For example, at least in 10 cities of Russia mass actions are carried out, from 1.5 to 5 thousand participate. In St.-Petersburg for last 3 years the number of festivals was growing. There are not a lot of role convents in Russia. It is necessary to do a bit of traveling across Russia to take part in. But there are numerous games in which people from St.-Petersburg and Moscow are the most active.
VK: So what are the roots of such behavior? Is it a social protest?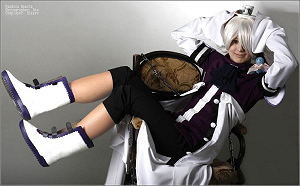 EK: People are guided by various reasons when discovering cross-sex for themselves. For some people it is a protest as you've told. For example, girls protest against their parents who are bothering them with phrases like «put a skirt on, you have to get married soon and give birth to children». It is a protest against an abstract society in which it is obligatory to be involved into «heterosexual matrix». They will wake you at night, and you should to answer who are you: a boy or a girl.
For others it is possibility to imply their homosexual orientation to the society because, for example, anime fans have very low level of a homophobia and high level of tolerance towards gender "otherness". It becomes a zone where it is possible to find friends for whom it doesn't matter what you wear and how you represent your gender identity. 
And for the majority, I believe, this is desire to experiment, to shock others, to prove their specificity and to have a good time simultaneously. Actually, these are conclusions of my research. If a guy has put on a female dress, has put on cosmetics and has gone with friends to take a picture, and at the same time he is fond of role-playing games or he watches the anime, it doesn't mean that he has problems with orientation. If they have sewed suits, took tents and have gone to outside for some days to play, it doesn't mean that they mean to explode the foundations of our society. First of all, it is creative youth which searches for their unique place and way of life.
VK: Thanks a lot for conversation!