"Parallel St.Petesburg" Exhibition
SESL took part in the creation of an interactive exhibition "Parallel Saint-Petersburg" in the framework of the "Children's days in Saint-Petersburg" festival. The exhibition is devoted to migrant children and teenagers of different nationalities whose families have been living in Saint-Petersburg for many years.

SESL took part in the creation of an interactive exhibition "Parallel Saint-Petersburg" in the framework of the "Children's days in Saint-Petersburg" festival. The exhibition is devoted to migrant children and teenagers of different nationalities whose families have been living for many years in Saint-Petersburg. The exhibition's heroes and participants are Saint-Petersburg schoolchildren who represent Armenian, Azerbaijanian, Greek, Georgian, Ingush, Tajik, Roma, Uzbek and other diasporas. SESL researcher and the exhibition's organizer Veronica Kostenko told about the unique experience of the Laboratory, ideas and their realization.
Svetlana Savelieva: Tell me please, whose idea was it and how you came up with it? 
Veronica Kostenko: We came up with this idea during our work. On the 28th of September, when we started, there were only the exhibition's name "Parallel Saint-Petersburg" and a few artists who agreed to take part in the project.  These were photographer Solmaz Guseynova, cameraman and producer of documentary films Mihail Zheleznikov, artists Nikita Sazonov, Inna and Ekaterina Pozina. We didn't like the name from the beginning, but it was impossible to do something about it, so we had to make it work somehow. We tried to do our best to make the exposition interactive and lively. At the same time we didn't want to give lectures to anyone. And, of course, we had disagreements about how vexed it should be, what should be done in a more simple way, who might be offended.
S.S. How did it happen so that SESL took part in this, which role did it play in the project?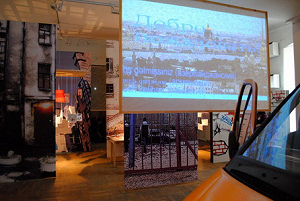 V.K. Vladimir Kostyushev invited Daniel Alexandrov to the museum and asked for help. Only one month left till the exhibition's opening, there was nothing there at that moment besides a few ideas. That is why we joined the project at the beginning. The work content was very large, we immediately formed a team of five SESL students who I was happy to be in charge of. They already had some experience in taking interviews and working at schools. We came up with the idea that the exhibition should show the city from the children's point of view. So we went to schools in order to take interviews with the schoolchildren and carry out master classes with them. It could be said that SESL played the key role, especially in terms of the exhibition's content. We helped with the artistic part in terms of the concept, but it was made by artists and photographers first of all. 
S.S. What was the idea of the exhibition at the beginning? How did you imagine this?  
V.K. At first, we didn't have any modern concepts, we weren't going to make walls with posters showing buildings of evicted people, for example. At the beginning we assumed that the whole exposition would be constructed as a circle with a round table in the center. But what was eventually done is much better and corresponds with the name and idea more, as I think. 

S.S. The idea was that there should be real children's voices, so you were supposed to take interviews with schoolchildren, is this right?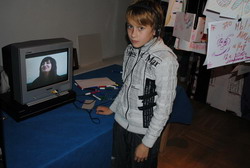 V.K. Yes, it was the main idea that children should speak about how they live here, what impressions about the city they have, what the city is like. Initially we wanted to ask them what they don't like, who offends them and other similar things. But when we reached the schools, we understood, that this shouldn't be done. We made up indirect questions. The questionnaire was elaborated at the Laboratory, then it was tested, and only the third or the forth variant was the final one, with which we worked later. Some of the questions or even groups of them didn't work at all, some of them were successful, and we understood that we should continue asking them.
S.S. What questions worked well and what didn't?  
V.K. The questions about dreams and future worked very well. It unexpectedly happened so that these groups of questions were very different. For example, we had such situations when a girl told us that she would like to become a DJ on the radio and in night clubs, but her mother is against night life, so the girl is going to enter the Customs Institute. So, the future is the Customs Institute and the dream is to become a DJ. The question about the city didn't work at all – the people just said nothing. We asked where the children like to go for a walk, which places to visit… Nothing important was said about it, so we had to shorten the list of questions. The children don't tell us where they go for a walk, where they spend their free time…
How did SESL contribute to the project?  
Firstly, we made the questionnaire, secondly, we took interviews, thirdly, we worked at the master classes. There were two types of master classes: portraits (we made them together with the youngest children) and so called "suitcases" which we made together with older kids (their families' stories and their hobbies hided into old suitcases).
| | |
| --- | --- |
| | |
Additionally, we composed all the texts for the exhibition, press-releases, all the content. We also came up with the idea of tolerance lessons which we are currently holding. We spent a lot of time for this during the last month. When it comes to interviews, the children took them with each other formally. It was sort of a trick. When we asked the children questions in front of the camera, they didn't tell anything. So we gave them the video camera, the stand, camera, questionnaire and microphone. And everything started working. We received wonderful results in the first school, the interviews were unexpectedly detailed and frank, just because it was a game. We told the children that we came to show the city from the children's point of view. But we chose the schools were there were many children of different ethnicities. The children asked each other a lot of questions, but we, of course, were standing nearby and asking for more information, guiding the interviews, because otherwise there were such questions as: "Pasha, whom do you love – Masha or Lyuba?" The interviews were very good, we have even got unique interviews with Roma and Chechen children, when they told us about their wedding traditions, rites, how they live, for example with two mothers, because the father has two wives. We also had a unique experience with the portraits, methodical first of all. Special efforts and imagination are needed to engage first graders into such a game. A lot of children whom we have worked with spoke poor or broken, or no Russian at all.

S.S. What do you mean by "portraits"?

V.K. Portrait is a technique which was created by Solmaz Guseynova, the photographer of the exhibition. Her graduation thesis at the Herzen university was about it.  This technique requires children to lie down onto big pieces of  cardboard and trace each other with markers, then they fill in the contour with pieces of paper, cloth and paint inside of it.  In such way they create full-length portraits of themselves. This occupies the children very much, because it is an absolutely new practice for them, they have never seen such big pieces of paper before. They suddenly find out that they are very big. They think that they are small, lie down onto the piece of paper and don't fit. Then they start communicating with each other even if they speak different languages, because it is impossible to trace oneself. You have to ask for a piece of cloth, paper, tape, scissors and so on. Therefore they start the interaction anyway. This is terrific! We had children who didn't speak Russian at all, so we explained them everything with signs. We called a lot of people for purpose – the students participated in the project attended these master classes, because they had to explain the children everything. It was pretty tough, but the results are impressive. There were sone very touching moments, for example, when one Tajik boy who didn't speak Russian at all tried to make his portrait. Then his father came, a big 45 years old man, in a leather coat with coarse hands. He saw his boy and started crawling around with him on his knees and gluing the small rags. That  was very nice. He came the next day when we were making the suitcases. His eyes were shining because we were busy with children. He even invited us to his house…
S.S. What was the idea about the suitcases?
V.K. The suitcases are a part of another story. The children were older, we gave them old suitcases and they glued either the city, their interests and hobbies or their families into the suitcases. Some of their were very interesting, where there were Uzbekistan or Azerbaijan on the lid and Saint-Petersburg inside. So first one, than another. A whole story about one person in one suitcase. There was also a perfect football field, some boys play in the "Zenit" youth team.
S.S. How did the children react at so unusual games which you offered them?
V.K. With pleasure. Most of the children tried to stay longer, for example, to finish their portraits. "No, I have to finish the train, mommy! I won't go anywhere until I finish here". Then we made exhibitions out of everything at schools, right in the halls and left for some days, then took everything back to the exposition. The children saw the results of their work at school, then we invited them to the exhibition at the museum, so they could find their works there.  

S.S. How did you choose the schools? How did the administration meet you there?
V.K. We took up this project not without reason. SESL already had work experience in different schools of Saint-Petersburg including experience of interviewing migrant children (the project was supported by the Center for Fundamental Research at HSE in 2009). Therefore, we knew in which schools there are many children of different ethnicities, how to  work there, we were known in those schools and no one was afraid of us.
S.S. Where there any disagreements in your team during work?
There were three organizers of the exhibition: Maria Korostelyova from the Fountain House, Solmaz Guseynova, the photographer, and me. We had three different positions. Masha wanted everything to be as biting as possible. Solmaz did her best not to offend anyone. I had a middle position. It was very difficult to find a compromise sometimes. Consequently, there were long discussions about the route taxi ("marshrutka") at the exhibition which could insult someone, because it is a stereotype. Our students said that we should put a bottle of vodka and dance around it. But everything turned out well, no one was offended and the children play in the taxi with pleasure.
S.S. You've told me that some of the children who made the exhibits came to the exhibition at the Fountain House. You invited whole classes. Please tell me in details how and what for this was organized.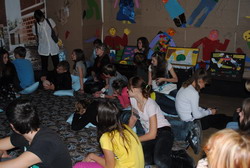 V.K.This is called tolerance lessons. Of course, they weren't regular lessons, we didn't want to give lectures to anybody. We invited them, guided through the exhibition in small groups, showed the exhibits, explained what we have made, what for, how it happened. Then everyone gathered in the end of the hall on a round oriental carpet with pillows. They sat down, discussed their impressions, then we asked them questions very similar to the ones we asked in the interviews so that they wouldn't  only learn new information but would also be active and share something with us. We tend to work with elder teenagers, because we have had some unsuccessful experience with 7th grades, for instance.  They aren't enough prepared yet, but starting from the 8th grade it goes well. At first, the children tell us their names, why they were named like that, what their names mean, then they start to tell us about their future, dreams and it happens so that their answers are close to the ones who the interviewed children gave. We draw their attention to this.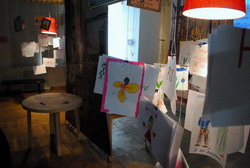 S.S. What is the exhibition about, will you please sum up your impressions? 
V.K. The exhibition was about children, not about migrant children. Just about children. They are all different and very interesting. And it turned out broader than we planned.
S.S. How could you estimate the potential of such projects? Will we take part more if there is such an opportunity?
V.K. To my mind, we should continue. This project is very good, and the results of it are impressive, we told about this at the "Moscow Echo" radio. Of course, these children's lives are often difficult. There is a problem that a lot of kids live in awful conditions, they are obliged to work from very young age. Everyone knows about this, but it is complicated to find such children. Once we spent a whole day searching for them, went to the buildings of evicted people at the X street but found nothing.  We planned to record a part "Invisible children", where there would be only voices on a black background and an uncovered  reverse side of this life, but we found nothing. The issue is that we don't see this life at all. Even being researchers, knowing where to look for those children, where they live, we aren't able to see them. I think that this is a sociological problem and we as scholars should  be engaged into it.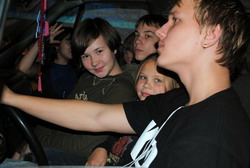 Regarding the projects' potential, it is enormous. It is possible to reveal very many things through the artistic form. I didn't expect this when I started participating in this project, at first I thought that we would take part only in sociological work: writing texts and taking interviews. But then I realized that all these master classes and lessons with children give us even more ethnographic material. Creative activities show the ethnicity, roots and cultural features wonderfully. It also lets us unite the children. So, from my point of view, it is a perfect, non-typical, progressive way.  The project 
turned out to be sociocultural. It is very bright, capacious, not large, but very informative. You should spend not less than an hour at this exhibition in order to feel it. There are a lot of social problems, social actions there. Although the project is cultural first of all.  Art is a very powerful uniting mechanism.
S.S. How did the project affect the SESL students who took part in it?
V.K. SESL research assistants and 2, 3 and 4 year students of the Sociology department of HSE (SPb) took part in the project: Ira Khvan, Marina Ostapenko, Liza Gherm, Masha Petrova and Alina Zakirova. It was a really serious practice for them. Firstly, they left the schools with shining eyes, everything was interesting for all of them.  Children give a very strong positive charge. Secondly, the situation at the schools where we worked is much better than we expected in terms of tolerance. Friend ties aren't based on the principle of ethnicity and the children feel themselves well there. Some steps are taken in this directions, some schools carry out special activities. We didn't see xenophobia. Children feel themselves pretty confidently, I was a bit surprised by that. It was an experience of a serious and diverse field for the students. We surveyed more than 300 children at five schools, the Red Cross and a few centers for rehabilitation and assistance for families and children. We also worked at a very elite school in the center of the city where the children of different ethnicities behave as kings and there is no feeling that they are migrants. We worked at schools of the Leningrad region, where there are almost no Slavic children and are a lot of nationalities – Chechen, Roma, Dagestan children. There were schools with houses of evicted people around them and with a lot of illegal migrant children. Special skills are required for speaking with them, organizing the work quickly, collecting the material and processing the interviews. It is important to direct your own work so that it could be fast, effective, fine.  When you have only three weeks to finish the project and one week to install the exhibition, it makes you set questions, formulate everything clearly, work very quickly, never be late, take interviews every day. It was a very dynamic work which disciplined everyone. I think it was useful for all the participants.