Publication of a Report ""Monitoring of the Situation of Migrant Children in St. Petersburg"
On March 26, RIA-News (St. Petersburg) held a press conference on the publication of a report on the project "Monitoring of the situation of migrant children in St. Petersburg".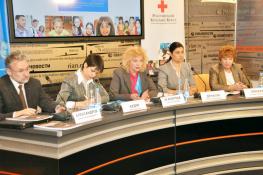 On March 26, RIA-News (St. Petersburg) held a press conference on the publication of a report on theproject "Monitoring of the situation of migrant children in St. Petersburg". The research project washeld by SESL and commissioned by UNICEF and the Red Cross. Anna Kudrya (coordinator of the projectin UNICEF), Elena Dunaeva (the head of the Federal Migration Service in Saint-Petersburg and Leningrad region), Daniel Alexandrov (the head of the SESL, Professor and Associate Director for Science HSE St.Petersburg), Tatiana Lineva (chair of the St. Petersburg Regional Branch of the Russian Red Cross) and Svetlana Agapitova (Children Ombudsman in St. Petersburg) were presenting at the press – conference.
The report of Daniel Alexandrov was the most detailed and lengthy. He spoke about the current study and its main results. He drew attention to the fact that despite the fact that Laboratory works in the field of migration for many years, the researchers achieved productive interaction with the committees and other relevant agents for the first time. He expressed his sincere gratitude to all members of the commission, who not only gave advice, but also provided the necessary contacts and helped to arrange interviews and were very interested in the success of the project.
Daniel Alexandrov noted the main focus of the research was on the children who have no citizenship of Russian Federation. Absence of citizenship creates great difficulties for children to get enrolled in schools. Also it makes health care system inaccessible for them. This group of migrant children needs legal assistance. UNICEF, the Red Cross and Svetlana Agapitova (Children Ombudsman in St. Petersburg) are doing their best to change laws about migrant children.
It is important to notice that according to the information received, migrant children regardless of their ethnicity tend to study well. Also, they are ready to commute far to school if this school is good.Academic success of these children is often better than of local children. The only subject that causes difficulties is Russian language.
Attention was also paid to children health. The questionnaire included questions about the availabilityof medical care, regularity of physical exercises, risky behavior (smoking, alcohol and drug use). It was found that migrant children, especially Muslims, are subject to risky behavior less frequently than their local peers. Migrant children are more often involved in sport activities self – esteem their health as verygood. The main problem in this field for them is difficult access to health care because of absence of medical insurance.
The main result of the study is the finding that schools in St. Petersburg are very tolerant. None of the surveyed schoolchildren (study involved more than 600 respondents) ever faced xenophobia towards themselves, although many have heard about it. Children who are representatives of the majority are 'ethnically blind'. National identity of their friends is not important for them. Migrant children show tendency to make friends with other migrants, but they do not form mono-ethnic coalitions. The cause of such friendly relations is that children have a similar experience of migration.
Anna Kudrya told about the problems and the results of research. She said that there are many stereotypes about migrants in Russian society. Serious studies contribute to an objective view on the seissues. Anna also hoped that this study will help to make Russian society friendlier.
Elena Dunaeva told about problems that Federal Migration Service is facing in this aspect. The main difficulty is that according to Russian law there are no legal mechanisms that enable migrant children
to stay in Russia for more than 90 days if they do not have Russian citizenship. Work permit and other types of temporary registration of their parents do not give rights to kids to stay in Russia. For this reason, parents are forced either to transport children across the border every three months, or put up with their illegal status.
Tatiana Lineva told about the work that is conducted by the Red Cross in the field of migration and displacement for many years. She explained that in 1990, when the Russian Red Cross started towork, refugees were the main category of people they helped to. Fortunately, the number of refugees nowadays is very small and keeps falling. The major part of legal and practical assistance now isprovided to migrants. Particularly, the Red Cross is seeking the right to provide at least some medical care and education for migrant children.
Svetlana Agapitova said that the research in the field of migrant children is very important. Without them it is impossible to understand what is going on with this group of kids. She also noticed that only those children who attend schools are included into the survey. We know nothing about those who live in Russia, but do not get any education. According to the data of Children's Ombudsman, about 8,000 migrant children study in the schools of St. Petersburg, this is a small number for such a big city. Svetlana Agapitova raised the problem of assignment of migration control functions of children to schools. According to the Children's Ombudsman, the school should be a friendly space where all children feel secure, and other authorities have to care about control of their legal status.

Watch video of press conference
Read  "Monitoring of the Situation of Migrant in St. Peterburg"  

by Veronica Kostenko