Ethnic Сommunities in Social Networks (Collective Student Project)
A unique research project of ethnic groups in social networks has been started several months ago in SESL. This project is of special interest as the research group consists of initiative students from the department of sociology. Moreover, these students are experts in ethnic issues to some extent as they belong to ethnic groups.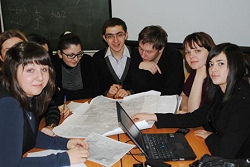 In the laboratory a unique research project of ethnic groups in social networks has been started several months ago. This project is of special interest as the research group consists of initiative students from the department of sociology. Moreover, these students are experts in ethnic issues to some extent as they belong to ethnic groups.
The majority of these researchers are first-year bachelor students, and this is the first time when they participate in a research project.  The members of these group are Alexey Gorgadze, Egine Sukiasyan, Mary Margaryan, Marina Ostapenko, Veronika Kostenko, Kirill Suharev and Denis Shusharin. The manager of the project is Irina Khvan. 
The research group holds seminars in the Lab weekly to discuss the progress with the academic advisor of the project, professor Daniel Alexandrov.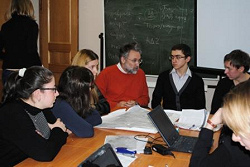 The general idea of the project is to analyze ethnic groups in social network "vkontakte.ru" (which is one of the most popular online social net in Russia among the youth). The researchers focus on online student communities (called "groups") that unite members of the same ethnicity in Russian universities. Another important research topic is educational migration. According to the received data it becomes possible to visualize the distribution of educational migration to Russian universities from regions of Caucus, Middle Asia, and other post-Soviet countries.
On the map there are cities where student ethnic organizations in "vkontakte.ru" were created excluding Moscow and St. Petersburg.
The participants tell about their impressions of the project: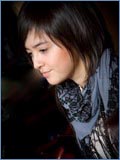 Irina Khvan, 3-d year bachelor student. Manager of the project:
"Since the 1st year of university, I wanted to study Koreans as the ethnic group, that's why I agreed to participate in the project being full of enthusiasm. I am proud of our research team as these students are volunteers and this is the first serious academic project, but they are doing really well.  The majority of participants belong to different ethnicities. This is a big advantage of this research group because first of all it makes the project more interesting for them. On the other hand, it will help them when we take interviews with members of the ethnic communities that are in the focus of the research. It is very important that people are not enforced to participate. All of us percept this work as very good practice in our profession, we learn together and we all are in equal position. That's why we are not just research group but we are research team! And that is really joyful! We have learned lots of things together and this spring we are ready to show our first results."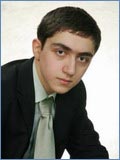 Alexey Gorgadze 1-year bachelor student:
"I was interested in the project immediately after it was launched, because my ethnicity is very interesting for me. I know a lot about it from my personal experience but it would be amazing to study it from the sociological point of view. It seems to me that this way of studying the youth is the most accessible, effective and fast. Nowadays there are so many people who use social network and put in information about them that online communities become a significant source of information. These days we have done a lot and it's high time to set new goals and go further. We can understand why some members of the same ethnicity go to Kazan and others go to Ufa. May be the thing is in cultural or religious differences. It is a good topic to study."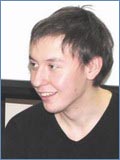 Kirill Suharev 1-year bachelor student:"I joined the project later then others. I've heard about that from Alexey. He showed me the maps that he made in the project and I felt that it is an interesting thing to do. Originally I wanted to enter HSE at Perm and to study economics. Now I am in St.-Petersburg studying sociology. But I still find it significant to explore social processes through economics. That's why in this study I focus on economic reasons of educational migration to certain Russian universities.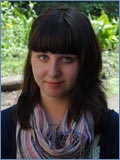 Marina Ostapenko, 3 year bachelor student:
"At first, I have entered this project incidentally. But when I understood that the participants are students of different age, and that we will study virtual communities, I decided to participate. My grandmother and grandfather are Germans from Volga region. I was interested in comparing the way they tell about their past and my mother's narrative about the same period. Having several points of view, I've got my own understanding of my ethnic background. So I came into this project with a certain idea to explore how Germans are presented in Russian online social network, how they communicate and whether the groups of Germans are active or not. Participation in Lab projects is very important for me because it has much to do with my life interests. I can better understand what my future occupation will be."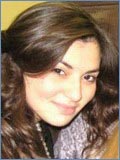 Egine Sukiasyan, 2-year bachelor student.
"I am interested in this very idea of uniting 1-st and 2-nd year students in one research team. I think it really helps to understand better what your future profession is about. It is fun to use "vkontakte" for sociological research. It is amazing to learn more about the educational patterns of young people of my ethnicity. "Vkontakte" is a very good choice of a research object as many young Russians use it for communication. Sometimes people do not report the truth about themselves, but it is statistically insignificant. What I like about this project is not only the academic work itself, but the creative atmosphere that appears during the consultations and seminars. We discuss things, argue loudly, laugh, it is a lot of fun."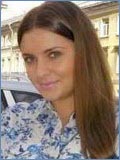 Athena Arapidi, 1-st year bachelor student.
"When I learned that some students (who are educational migrants themselves) decided to unite in order to study ethnic student groups I was really interested. I was attracted by the ethnic studies long ago and I am happy to work on this in this joyful and enthusiastic team. I believe that we get unique research experience and a lot of fun doing this. I also want to thank Irina Khvan who does a lot of work organizing us in a team."
Mary Margaryan, 1 year bachelor student.
"I originally planned to enter HSE as I knew that the atmosphere is very friendly here and students are always involved in interesting projects. When Irina Hvan invited me to take part in this project I agreed immediately as I always wanted to know more about my ethnic community. Moreover, this is the first research experience for me. I feel really comfortable working with this people and I believe that the atmosphere is important for a successful project. Irina does a lot for keeping us together and I want to thank her for it.
by Veronica Kostenko